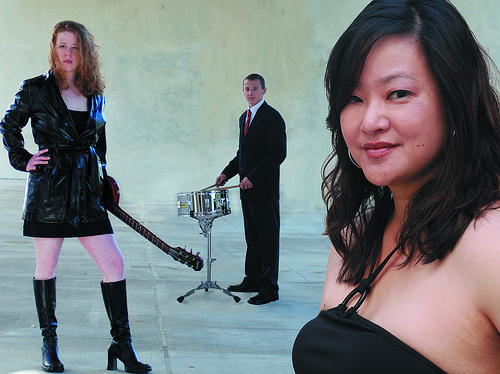 Having enjoyed airplay at various college radio stations and web radio stations across the nation and worldwide including KKLA Los Angeles, CA, KCLA Hollywood, CA, KCRH, Hayward, CA, KUPS Tacoma, WA, KGHP Gig Harbor, WA, WSGR Port Huron, MI, KZOW Forest City, IA, WQFS Greensboro, NC, and WGEV Beaver Falls, PA, the band's critically acclaimed, self-titled EP Heaven's Burning has sold out. The group's artistic endeavor and sophomore release, Free Agents (Soul'd Here), demonstrates the band's maturity musically, lyrically, and conceptually, and as a limited run, is soon to follow in the footsteps of its predecessor.
Heaven's Burning has had the honor of receiving numerous positive reviews, both for the group's recorded music as well as its live show. The band has also had the distinction of being chosen to participate on many CD compilations, being acclaimed as one of two outstanding new artists on the "Gas Collection" produced by 7Ball Magazine, a renown indie music magazine.
Chosen out of 160 bands nationwide, Heaven's Burning was asked to perform as one of 30 bands at the Malibu MOB Festival (Music on the Beach). Similarly, Heaven's Burning was also selected as one of the top 31 local L.A. bands out of 250 bands to participate in an invitation-only Local Battle of the Bands Competition at one of the trendiest eateries in Pasadena.
No stranger to live audiences, Heaven's Burning has performed on some of the most prestigious stages in Los Angeles including The Roxy, The Joint, The Coconut Teaszer, and The Chain Reaction. The band's performance itinerary has also included some of California's finest college campuses including Cal Poly Pomona and UC Riverside.
On a nationwide front, Heaven's Burning has participated in several music festivals including Washington's Portico Fest (formerly known as the TomFest), the Grrrl Rock Musicfest in Illinois' popular college town of Champaign-Urbana, and Ladyfest in Michigan's state capital, providing support for P.O.D., Mary Lou Lord, Meredith Brooks, Five Iron Frenzy, and The Violet Burning.
Internationally, Heaven's Burning has traveled to Puerto Escondido in Southern Mexico to play a weeklong concert series for the city's annual international surfing competition, an event that attracts hundreds of tourists from all over the world.
In the fall of 2001, Donne in Musica invited Heaven's Burning to Italy to participate in a music fête and symposium at the Museum of Modern Art. However, concerned for the safety of its American guest artists, the organization understandably rescinded its invitation due to the tragic events of September 11th.
As social activists, Heaven's Burning has donated its time and proceeds to the Girls Rock N' Roll Camp, an organization that provides opportunities for girls ages 8-18 to develop their leadership and musical abilities, and Hannah's House, a shelter for single teenage mothers. The group was also invited by the city of Pasadena to perform at a benefit concert promoting peace.
Heaven's Burning, currently on location, shooting its next music video, is engaged in the planning stages of forthcoming musical projects.
Instrumentation
Angela Santiago Chung – Guitar, Vocals
Kristy Jones – Guitar, Vocals
Discography:
EP – "Heaven's Burning"
LP – "Free Agents (Soul'd Here)
EP – "Voom"
Accolades:
Free Agents (Soul'd Here): Top 100 Must-Have Albums – Girlmedia.com
Featured Independent Artist – 7Ball Magazine (Gas Collection, Volume 2)
Top 55 Girl Bands in America – Girlmedia.com
Cool Band Award – GoGirlsMusic.com
Top Music Site – SoMusical.com